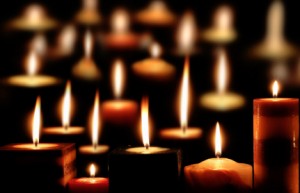 Columbia, PA residents came together last week for a vigil for Jasmyn Smith, an 11-year-old girl who took her life due to bullying. The 11-year-old died from self-inflicted wounds. According to her family, she choked herself with a belt after being heavily bullied both at school and online for a year and a half. The superintendent of Columbia Borough Schools told CBS 21 that he didn't know of any bullying involving the girl. But kids at the school say the bullying can be pretty bad (read the news story here).
While it's heart warming to know that the community has stepped up to support Jasmyn Smith's family, we can't help but ask: Where was the "vigil" when that child was being bullied?
If the community really stands together, as one community member said, where were they standing when they failed to stop the bullying and protect a vulnerable child from being tormented? Skip the useless vigils – stand up when it counts!
Unfortunately, the city of Columbia, PA is not alone. This is a predictable, formulaic response – ignoring (or not stopping) the bullying until a crisis or tragedy happens, followed by hand-wringing, mock surprise, and a vigil (Google the bullying-related suicide of Phoebe Prince, not to mention the ones listed in the news article). When are we going to change this pattern?
And throwing money is not the solution, either ($700,000 to a bullied bus monitor or $40,000 for plastic surgery to a girl bullied because her ears were the wrong shape or angle). The money is guilt payment; the damage is already done. The only solution is prevention: don't bully someone in the first place. If everyone who contributed $1 to those funds instead made the commitment to spend even 10 minutes every day paying attention to insure that everyone they cross paths with is being treated respectfully and kindly (even and especially when there are differences and disagreements), a MAJOR positive shift will occur. Prevention is easy; recovering from this kind of tragedy, impossible.
There is a big cost if we miss the early chances to intervene in kids' bullying and set things back on the right track. The early chances are the easy and cheap options. Clean-up, damage control, and punishment are never as good as prevention.
There will never be enough metal detectors, school suspensions, or lawsuits to stop bullying. You have to catch the kid before he (or she) takes the gun to school or commits suicide. And by "catch," I don't mean just finding the gun before it gets to school or catching the girl as she's putting the rope around her neck.  I mean connect that kid to his caring community, early on, so the thought of needing to bring a gun to school never enters his or her mind.
Why are we so bad at prevention? Adults and kids miss or fail to act on hundreds of clues that are in plain sight. Watch some of the forensic look-back tapes on Columbine or similar tragedies (Columbine is the most extensively studied in North America).
We make a million excuses for everyday bullying and harassment: "It's just kids," "They'll grow out of it," "What did you do to deserve it?," "Your child is just too sensitive," "We've done everything we can to solve this problem," "Not my child," "There's no bullying problem in this school/team/group of friends," "Why bother? The real world is full of exclusion."
Adults don't get involved until there's serious emotional or physical injury or a tragedy. Sometimes, a lawsuit motivates action; again, too late. Then we have a memorial luncheon or a candlelight vigil. And set up a Facebook memorial page.
Useless.