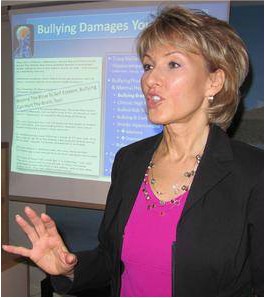 Lorna offers a wide range of workshops about Respect, Bullying Prevention, Conflict Resolution Skills, Stress Management, and Emotional Intelligence. She works with adults who work with children – teachers, parents, school councils, mental health professionals, coaches, and camp counselors. Lorna also mentors teens and young adults in the Girls' Respect Groups Program. Lorna lives in Toronto, Canada and gives workshops and presentations in North America and internationally, upon request. Contact Lorna for more information.
Bullying Prevention
Why Is Bullying Still A Problem? What Are We Doing Wrong? (2 Hrs)
Despite thousands of prevention programs, why is bullying still on the rise? This workshop will change your understanding of bullying! We'll look squarely at the factors encouraging bullying's insidious growth & our incremental acceptance of bullying as the new norm in our homes, schools, & communities. We'll examine the contributors – escalating levels of everyday rudeness, reality shows that demean & humiliate, & the unwitting role that adults play in enabling & teaching kids to bully. We'll discuss all 3 bullying roles – the bully, the target & the bystander & why any solution to bullying must address all 3. Bullying is an adult problem, not just a kid's problem.
Why Is Bullying Still A Problem? (Full Day Workshop For Teachers)
Even the most experienced, empathic teachers have trouble spotting bullying. This lively, interactive workshop trains teachers & other professionals to recognize the subtle signs of bullying & how to identify & change toxic environments that provide fertile ground for bullying to grow. You'll learn why conflict resolution skills don't work for bullying, why cyberbullying is always just the tip of the iceberg, & the critical responsibility of bystanders. Small group case studies, videos, written classroom exercises, & video games give teachers a wealth of knowledge to take back & share with their colleagues & students. The biggest online risk to our students is from their own behaviour! Go live to the websites your students use and learn how to enable privacy settings to optimize safety. Engage your students in discussion and action! Learn how to teach your students about bullying, without adding another teaching unit to the curriculum!
Cyberbullying: Early Warning Signs & What Can Adults Do? (1.5 Hrs)
Where does acceptable online behavior end & cyberbullying begin? How can adults get a handle on kids' technology? What are the symptoms & what are the solutions? How can we teach kids appropriate boundaries & limits? And what about adult cyberbullying? This workshop can be done with a live Internet link to walk adults through a child's online world.
Bully-Proofing, Conflict Resolution & Empathy: Elementary Classroom Tools For Teachers (3 Hrs)
Join us at this lively, interactive workshop for elementary teachers. Using children's books, games, & classroom activities, we give teachers tools to support classroom goals of empathy, respect, & acceptance for all. You'll come away with immediately useful resources & ideas for simple things you can do in your own classroom, without adding extra lesson plans!
Respect
Girls' Respect Groups: Why Respect Is Crucial For Both Girls & Boys (1.5 Hrs)
Respect, for ourselves & others, drives our important life decisions – the friends we choose, how we approach school and work, the challenges we accept or avoid. Girls' self-respect is under attack from all sides. How do we keep young women grounded in respect? How does this affect boys' self-respect and relationships with girls?
Learn about Girls' Respect Groups, a unique after-school program for preteen girls, led by specially-trained high school girls. Working together, both sets of young women learn to make choices with self-confidence and self-respect. Join us to learn how to train teen girls to be inspiring GRG leaders & bring Girls' Respect Groups to your schools and communities.
Girls' Respect Groups Middle School Program (6 Week After-School Program)
Girls' Respect Groups is a unique, 6-week after school program for middle school girls, led by high school teen girls. Fun activities, games, and core reading material from the book Respect by Macavinta & Vander Pluym encourage middle school girls to build supportive networks of girlfriends and walk away from frenemies. With the kind-hearted guidance of teen GRG leaders, middle school girls examine respect, understand how it will affect the rest of their lives, re-examine current behaviours and friendships, & learn how to make choices grounded in self-respect. Learn how to bring Girls' Respect Groups to your school!
GRG Leadership Training Program For Teen Girls (After-School Program For Grades 10-12)
Looking for a great volunteer project for teen girls? The GRG High School Leadership Training Program is a unique, 10-week after-school program which prepares teen girls to become kind-hearted, compassionate leaders of the GRG Middle School Program. Leaders-in-training are taught the GRG curriculum and the facilitation skills needed to become capable, confident leaders. Offer your life experience to guide preteen girls through the rough spots. Learn how easy it is to start a GRG Leadership Training Program at your school or in your community. Build a positive community of girls helping girls!
Supporting Skills
Top 10 Stress Survival Skills For Adults (1.5 Hrs)
Got enough stress? Work, home, kids, schedules, meals, sports, laundry, housework, early mornings, late evenings, drive-through meals – ENOUGH! We'll never eliminate stress, but how do we find balance? How can we be resilient and thrive under stress? Join us for this workshop on Stress Survival Skills. We'll do a stress-assessment quiz & identify 10 surprisingly simple things we can start doing right now to lower our stress levels. Life may not be simple, but we can make it easier (or harder) with the simple choices we make every day.
Emotional Intelligence For Children: It's Not A Contradiction! (1.5 Hrs)
Emotional maturity, EQ, emotional intelligence. What is it? Is it really more important for success in life than academic achievement? How do we support our kids to develop the critical skills of empathy, respect, integrity, independence, flexibility, optimism, problem-solving, compromise, and delayed gratification? Everyone's born with a unique temperament. How do we help our kids make the best of what they've got? Can parents increase their own emotional intelligence or is it too late for us? Join us for a fascinating discussion.
Can You Buy It For Me? Allowances, Chores, & Money Skills (1.5 Hrs)
For parents of children ages 3 to teens. Money management is a key life skill. Helping out around the house encourages kids' sense of contribution to community and fosters their self-respect by building competence and confidence. Do you pay your children for chores? Do you give your child an allowance? How much? When to start? Who pays for CDs, gifts & clothes? Help your child develop the skills for living on their own –  believe it or not, by age 5 your child is starting to learn these skills. Come to our workshop for a lively discussion & form a framework for your family!