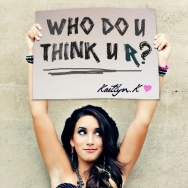 The Great American NO BULL Challenge is a student-led National video contest and Teen Video Awards show dedicated to promoting bullying prevention and respect, effecting change in communities and schools using the power of music and film.
Each December, students in grades 6-12 have about four months to create a 2 to 5 minute video or 30-60 second PSA with a bullying prevention theme. The resulting videos are entered in the NO BULL Teen Video Awards contest, which has prizes for the winning entries that include the Stand UP Award, scholarships, laptops, video cameras and a trip to Sundance Film Festival.
The students of Cypress Ranch High School in Cypress, Texas, created a video that snagged not only the 2nd Place "Documentary of the Year Award," for 2012, but the "Best Community Involvement Award" as well. The concept was a "lip-dub," which is a kind of music video that uses prerecorded music and a huge cast of lip-synching performers. "Who do you think U R?" was filmed on location and performed by more than 1000 students from Cypress Ranch High.
Now boasting nearly 600,000 views on YouTube, the lip-dub was directed and edited by student Preston Cox, and produced by Triple Oswald, the president of the student council at Cypress Ranch. The viral video featured a song entitled "Who do you think U R?" written and sung by a Cypress Ranch student named Kaitlyn Knippers, who has been recording her own songs and performing as "Kaitlyn K." since the age of 12.
Triple – a nickname for Stewart Allen Oswald III – asked Kaitlyn Knippers if she would write a song about bullying. In 2010, a middle school student had committed suicide, and Oswald wanted to produce a video with a positive message, and a warning that "our students won't tolerate bullying here."
If your school or organization is interested in participating in the 2013 NO BULL Challenge, the deadline is coming up fast. You can visit http://nobullchallenge.org/to-enter for information on how to enter next year's contest. Video uploads begin December 14, 2012 at midnight PST.
Source: http://nobullchallenge.org/
http://gimundo.com/news/article/how-cypress-ranch-high-school-beat-bullying-with-a-lip-dub-video/
http://headbutler.com/music/rock/who-do-u-think-u-r
Photo Credit: www.headbutler.com