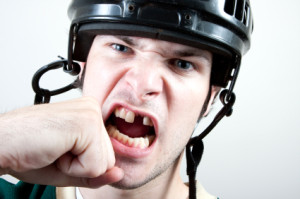 Hockey Hall of Famers Bobby Orr and Ken Dryden are in a faceoff. They're on opposite sides of the line on hockey violence.
Orr says there's a place for fighting in junior leagues and NHL hockey. He argues that the so-called "enforcers" who draw blood serve as a deterrent to those tempted to injure stars like Sidney Crosby. It keeps checking in check, he says. Orr has a lot of pro hockey players and owners lined up on his side.
Dryden shoots back that research shows hockey fighting is dangerous at any age. Quoted in the Globe and Mail, he says, "Science has responded to the game on the ice. Now it's time for the game to respond to science."
Dryden's right. Let's not forget that Dave Steckle and then Victor Hedman hit Crosby in the head in two consecutive games in 2011. Orr's deterrent argument doesn't work so well when an "enforcer" plays for the other team! After these injuries, Crosby's concussion symptoms sidelined him for the rest of the 2011 season (including the playoffs) and the first 20 games of the following season.
Concussions are at the head and heart of Dryden's argument. The former politician and goalie has a significant team on defence. Chief among them is Dr. Michael Stuart, director of the Mayo Clinic Sports Medicine Center.
Stuart is also chief medical officer for USA Hockey. His son plays for the Winnipeg Jets. He's engaged, to put it mildly. This month, Dryden, Stuart and a team of scientists called for a ban on all hockey fighting. They're calling for it for the sake of players' health … at all ages.
We've talked about how bullying – both physical and psychological – can cause brain damage. Imagine brain damage sustained when you experience bullying on the ice, a.k.a. hockey fighting. The damage from concussions can last years after an athlete retires his or her skates, and can cause memory loss, depression, Parkinson's-like symptoms, and other problems.
At a scientific conference in Boston in 2013, Quebec neuropsychologist Dr. Maryse Lassonde presented results of a long-term study with Montreal Canadiens players who'd suffered head trauma. Their brain waves were abnormal years afterwards, affecting attention and motor skills.
Worse still, concussions can be fatal. Senior AAA amateur player Don Sanderson, 21, died in Whitby, ON from complications of a concussion after hitting his head on the ice during a fight.
Orr and Dryden already agree on the issue at the minor level: Fighting should be banned for PeeWee leagues. But kids learn bullying from adults, so why is it okay for adults to bully each other in a game and then demand sportsmanship of children?
Like Orr, we want to see Sidney Crosby playing. We just don't want to see him – or any other hockey player – fighting. It would be nice if players themselves supported an end to fighting and a move towards a skilled game of skating and shooting pucks.
In 1928, the Boston Bruins' George Owen was the first player to start wearing a helmet for protection. His decision wasn't popular, but he knew he was right. It took 50 years for the NHL to follow his lead and make helmets mandatory. Today, we can't imagine playing hockey without helmets and face masks.
Let's hope it doesn't take another 50 years for the NHL to listen to the advice of scientists. We could be protecting young players – and their brains – now and in the future from the damage of a vicious and potentially deadly type of bullying. That's our idea of a great goal.
Learn More:
S. Whyno, "Bobby Orr Explains What Rules He Would Change To Make The NHL Safer," The Globe and Mail, Oct. 16, 2013
J. Klein, "US Researchers Press for Ban On Hockey Fights," The Globe and Mail, Oct. 10, 2013
"Concussions Cause Long-Term Effects Lasting Decades," MedicalNewsToday.com, Feb. 18, 2013