September's seasonal call for back to school (& work) is a great opportunity for parents, teachers, & students to renew our commitment to bullying prevention. Here's where adults must take the lead and set clear boundaries right from the start. The behavior limits we set for kids – and ourselves – in the first 60 days of school will determine the level of discipline problems and the speed of academic progress for the entire year. Clear behavior limits with consistent, kind enforcement create nurturing environments where students can learn and teachers enjoy teaching. Win-win!
With that in mind, BullyingEpidemic.com developed the back-to-school program "20 Tips for Bully-Free Schools." Starting today, for the next 20 school days (4 weeks), we will post a daily tip to help get the school year off to a great start. Students and teachers can download the daily tips and their color infographics, post them in the classroom, and use them to spark daily short discussions on building bully-free friendships and working groups.
Join the teachers and students in over 110 countries using BullyingEpidemic.com's web-based "Tip-A-Day" program!
By the end of the month, you'll be surprised and pleased by students taking responsibility for their own behavior and working together to create safe, nurturing environments. Let's be upstanders, not  bystanders!
These "press the reset button" ground rules also work well at the start of a new semester or outside of school, for after-school teams or group activities. Use them at home, too, or any time you want a fresh start.
BONUS: Look for our free, downloadable tip sheet at the end of the first 2 weeks, tip "10 Tips For Bully-Free Schools," capturing the first 10 tips.
Stay in touch & let us know how you're doing! Share your best ideas, photos, and videos with us on Facebook and Twitter!
And check out our "Tip-A-Day" program for creating positive girls' friendships, "No More Mean Girls!" on GirlsRespectGroups.com, starting in early September.
---
20 Tips for Bully-Free Schools – Tip #1
Set The Bully-Free Tone Right From The Start.
Adults must set clear, consistent expectations & limits. We want kids to internalize their own good behavior boundaries, including bullying prevention, whether or not adults are around.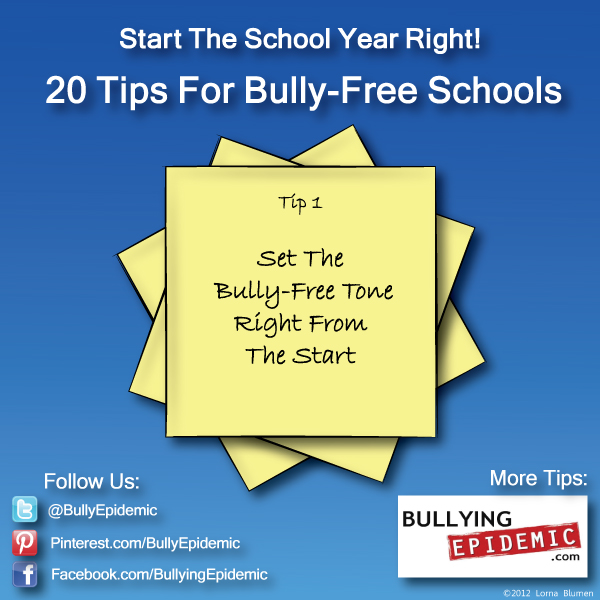 *************
Join us on our blog & Facebook over the next month
as we offer daily back to school tips to help make this year your best bullying-free year ever!