Now Available from the authors of Bullying Epidemic: Not Just Child's Play and Billy the Baaadly Behaving Bully Goat, a new book on bullying prevention for both parents and children.
I've Got Your Back:
Help Children Say Hello to

Friends

& Goodbye to

Bullies



By: Lorna Blumen, MS, MBA & Staci Schwartz, MD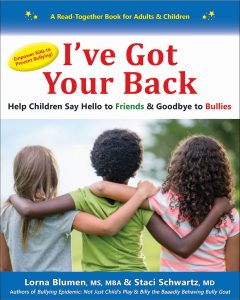 With over 30 years of combined experience, bullying prevention specialists Lorna Blumen and Staci Schwartz answer parents' most urgent questions about kids' bullying:
How do I protect my child from bullying?
How do I support my child when there's a bullying problem?
How do I help my child form positive friendships?
I've Got Your Back: Help Children Say Hello to Friends & Goodbye to Bullies gives children the tools to build positive relationships and protect themselves from bullying. Bring learning to life with children's stories and fun activities. Parents will help kids ages 5-10 build self-esteem, positive relationship skills, and resilience, while strengthening the connection between parent and child.
Teachers will also love I've Got Your Back. The activities are easily adapted for use in the classroom. Start the school year off right!
Click here to find out more information.