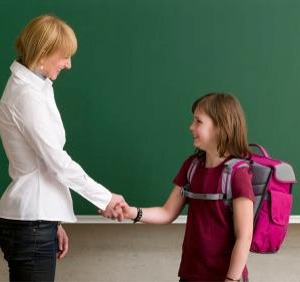 It's no surprise that kids who are "different" are at greater risk of being bullied. Children who are new are also at greater risk, especially in the first few months, before they have become part of supportive social circles.
It takes a minimum of 3 to 6 months for a child to feel connected to their new home, school, and neighborhood. Currently, our efforts to welcome new children and help them fit in often do not last long enough to be effective.
At school, make it clear to the "old kids" that everyone is expected to introduce themselves, be friendly to, and include the new kid – in classroom activities, at lunch, and at recess. Find classmates from the same neighborhood to walk home or ride the bus together. Assign rotating "friend ambassadors" for 4 to 8 weeks, to teach new kids the ropes, walk them to class, and introduce them to other friends and classmates. Student reporters can "interview and introduce" the new student, either to other classmates or in articles for the school newspaper. Highlight commonalities, shared interests, and the newcomer's special skills or talents. Be creative in helping kids learn the value of helping and making a place for everyone.
Parents can reinforce the welcome if teachers send a message home so parents know there are new kids in the class. Invite new kids home after school and on weekends, to get to know everyone 1-to-1. Yes this takes effort, but when kids get to know one another, as individual human beings out of class, it dramatically reduces the likelihood of bullying back in school.
Connect to the new parents too. Invite a new familiy for a walk in the park, a bike ride, a Sunday pizza or potluck dinner. Remember, kids model their parents' attitudes and behavior. Children learn caring and empathy for newcomers when they see you giving your time to help them feel welcome and included.
Teaching kids to offer this kind of sustained welcome to newcomers has direct applicability to adult life in our mobile, multicultural societies, and is an example of the multiplier effect that changing kids' behavior can have on our whole society. When our kids grow up taking responsibility for welcoming newcomers and making an accepting place for everyone, they will bring those attitudes and skills into their adult lives and workplaces.
For example, we can do a much better job welcoming new adult immigrants, helping them find meaningful work and educational opportunities, using their talents and prior training more effectively.
New immigrants who feel accepted by and embedded into their new surroundings overcome the temporary obstacles of language and cultural differences more easily, and more quickly contribute their unique skills and perspectives to a more vibrant community.
From The Start,
Set The Tone For A Welcoming, Inclusive, Bully-Free School Year!
Make Every Day Bullying Prevention Day!